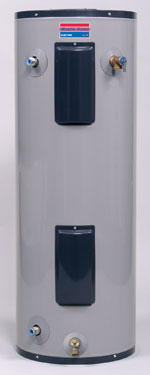 This water heater is ideal for homeowners living in manufactured housing who desire a reliable electric water heater.
Dual heating elements, 4.5 KW/240V for maximum efficiency.
2" Non-CFC polyurethane foam insulation reduces standby heat loss & reduces energy costs.
Fused ceramic shield tank for anti-corrosion protection.
Factory-installed side temperature & pressure valve.
Thermostat/high limit control allows adjustment of water temperature while providing overheat protection.
Built-In electric junction box for convenient installation.
Non-Metallic, corrosion-free drain valve.
Listed to UL174/1990NAECA approved/HUD mobile home approved -BOCA/ASHRAE 90.1b-1992. Models are certified @300PSI test pressure & 150PSI working pressure.
| | | | |
| --- | --- | --- | --- |
| Gal | Description | Size-HxDxW | Part # |
| 19 | Electric WH | 18˝x 25˝x 18 1/2˝ | 56010001 |
| 28 | Electric WH | 22˝x 19˝x 22 1/2" | 56010002 |
| 30 | Electric WH | 18˝x 45˝x 38 1/2˝ | 56010003 |
| 40 | Electric WH | 20˝x 48˝x 40 3/4˝ | 56010004 |
| 50 | Electric WH | 20˝x 58 1/2˝x 51 1/2˝ | 56010005 |